Direct Mail
Your Guide to Standard Postcard Sizes and How to Start a Postcard Campaign
Planning a direct mail postcard campaign but need a little guidance on postcard sizes? You may be wondering what standard postcard dimensions are, or what postcard options Xpressdocs offers. You've come to the right place. 
What are standard postcard dimensions?  
The short answer: The standard postcard size is 4" by 6".  
The long answer: To qualify for mailing as a First-Class Mail postcard, a postcard must meet these USPS guidelines. To meet standard postcard dimensions, your postcard must be: 
Rectangular

At least 3-1/2 inches high x 5 inches long x 0.007 inch thick

No more than 4-1/4 inches high x 6 inches long x 0.016 inches thick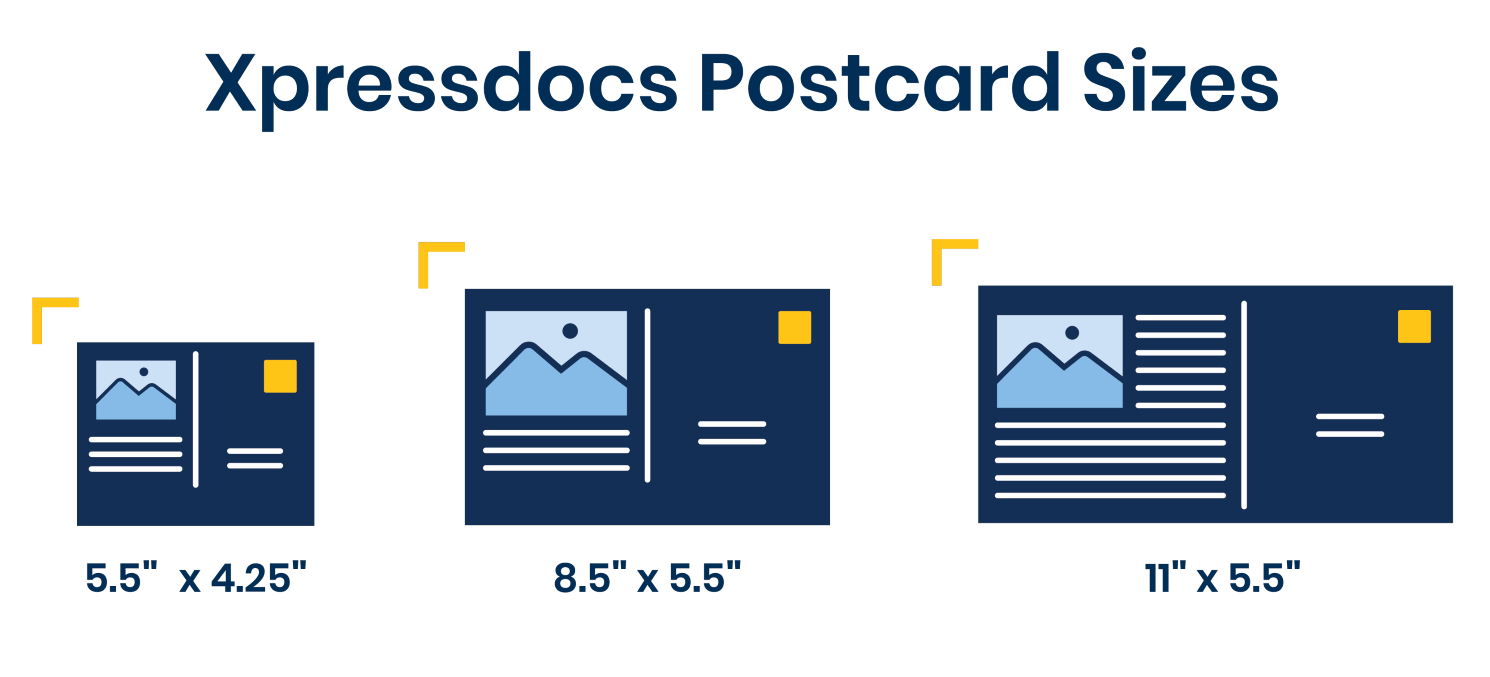 What postcard sizes does Xpressdocs offer? 
The short answer:  
Small – 5.5 x 4.25 in (this meets standard postcard dimensions) 
Large – 8.5 x 5.5 in 
X-Large – 11 x 5.5 in 
The long answer:  
Xpressdocs offers up to 600 postcard options with multiple layouts available, including fold-over and custom options. Our tried and true Small, Large and X-Large postcards continue to be our most popular.  
What is Xpressdocs' most popular postcard size?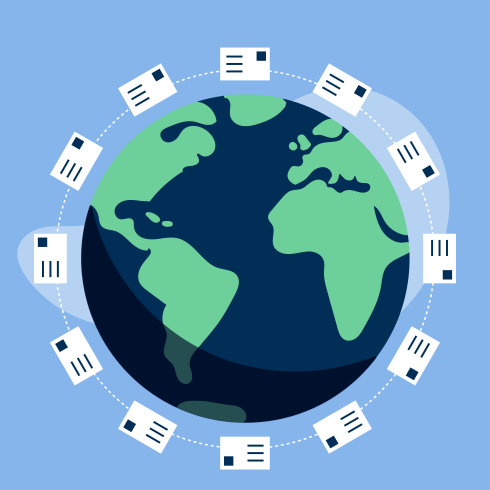 Our most popular postcard size is our Large Postcard (5.5 x 8.5 in). In 2022, we printed and mailed over 62 million large postcards on behalf of our clients! If those postcards were placed end to end, they would reach from our headquarters in Fort Worth, Texas, all the way to Hong Kong, over 8,000 miles! 
Our next most popular postcard is our X-Large Postcard (5.5 x 11 in). We printed and mailed over 13 million x-large postcards in 2022 for our clients, which would stretch from Fort Worth, Texas, to Vancouver, Canada.  
Our third most popular postcard is our Small Postcard (5.5 x 4.25 in), which falls under the USPS guidelines for standard postcard size. We printed and mailed almost 10 million small postcards for our clients in 2022, which would reach from Fort Worth, Texas, to Indianapolis, Indiana.  
Why are our large and x-large postcards so popular? Their size stands out in the mailbox, causing recipients to take a second look.  
 START AN 8.5″ X 5.5″ POSTCARD CAMPAIGN
What postcard sizes are offered for EDDM and AmazingMail?
Every Door Direct Mail® (EDDM®) allows you to send targeted direct mail campaigns by zip code. This solution lets you saturate a desired market by delivering your campaigns to every address within a target zone, be it a single zip code or an entire city. The mailer sizes offered for EDDM® are:

AmazingMail is Xpressdocs' proprietary Automated Direct Mail solution, which allows you to automatically create and send personalized mail pieces for every occasion along your customer's journey. Effortlessly schedule personalized direct mail to be printed and mailed the same way you can schedule an email. The sizes offered for AmazingMail are:

What should I keep in mind when planning a direct mail postcard campaign?
Repetition is Key
The secret to success and that famous direct mail ROI is to repeat, repeat, repeat. Studies show that it takes a minimum of five to seven touchpoints with direct mail to encourage a purchase, so make sure your mailing isn't just a one-and-done.  Set up recurring campaigns with the help of tools like automated direct mail and automated prospect marketing.  
Make Sure Your Postcard is a Winner
Does your postcard design have all the right ingredients to captivate your audience? Check out The Anatomy of a Great Direct Mail Postcard to make sure you're on the right track.
Where can I get more information?
With over 20 years of experience working with companies to level up their direct mail marketing, we have the tools to help your campaigns succeed. To find out more about how we can help you launch a stellar direct mail campaign, fill out the form below: