Direct Mail
The Anatomy of a Great Real Estate Direct Mail Postcard
The Anatomy of a Great Real Estate Direct Mail Postcard
Just like the perfect balance of ingredients that make up your favorite cake, a great direct mail postcard relies on certain ingredients that always need to be there, no matter what type of campaign you're running. To help you get the most out of your direct mail sends, we've created an infographic with the most important features you'll always need for your postcards along with some explanations below. Use these items as a checklist for direct mail success.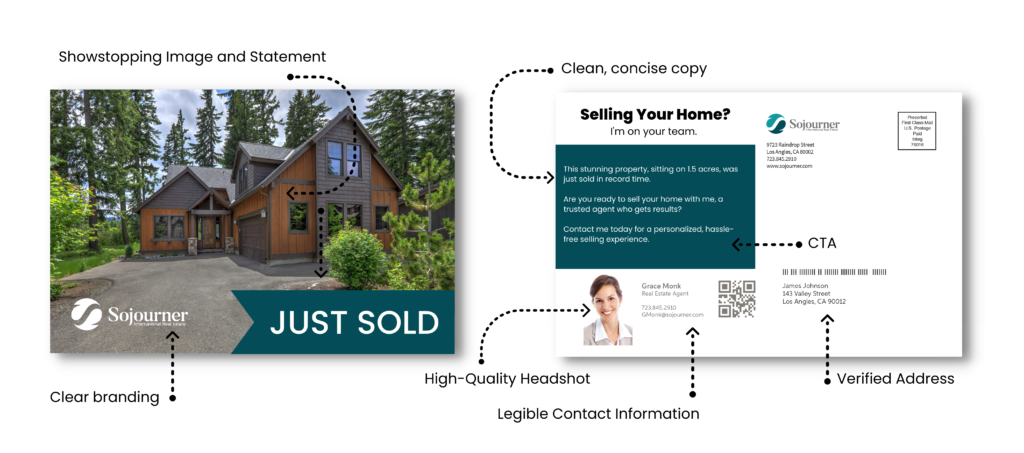 Showstopping Image and Statement
First, for the front of the postcard, you need a strong statement like "Just Listed," "Just Sold," or "Price Change," to help your prospect quickly grasp the reason for sending the postcard. You also need an image (or three) that will stop them in their tracks. Make sure the image is large, high-quality file (we recommend at least 300 dpi for the best print results).
Did you remember your company logo? Always include your company's logo on your postcards so your prospects know with which great brand to associate your services. (Your brand identity speaks volumes.) Make sure you place the logo on the front and back of the postcard according to your company's brand guidelines, which may require different approved versions of the logo for different backgrounds. Note that on the front of the sample postcard, the logo is one color (white) so that it shows up best on the darker photo. On the back of the postcard, the logo is smaller, full-color, and marks where the prospect can find the address information for the agent's office.
On the back of the postcard, include a quick callout with the purpose of the mailer, and one or two short paragraphs highlighting how you can help your prospect. Make sure the font you use for the copy is easy to read and professional, such as Arial, and not too cramped or with unnecessary flourishes. (Just say no to Comic Sans!)
Underneath the paragraph about the home, include a CTA, or Call to Action. This is a short phrase that encourages your prospect to act as soon as possible. Some examples are, "Contact me today for a personalized, hassle-free selling experience," and "Don't wait on this hot market. Call me today." Test out different CTAs on each of your campaigns to see which ones perform best. Don't be afraid to be creative with your call to action – a creative one is more memorable.
On the back of the postcard, include a professional, high-quality headshot so your prospects will be able to connect your stunning face to your name. Again, we recommend using a photo with a resolution of 300 dpi, a size of 1" x 1.5" for headshots (300 x 400 pixels).
Legible Contact Information
Right next to your headshot, include your name, job title, and contact information at a font size in a font style that is easy to read. Your contact information is the most important part! Want to take it up a notch? Include a QR code that links directly to your website or social media page.
The last thing you'll definitely want for a successful direct mail postcard is a recipient address that is as accurate as possible. The best place to get verified addresses for your campaign is from a purchased mailing list. To find out more about how to get a quality mailing list, read 4 Steps to Growing Your Farm with Targeted Mailing Lists.
After making sure all of these features are on your postcard, you're ready to send out your campaign! Don't stop with just one, however. Take the new template you've made and repeat your sends next month, and the next. Repetition is key to a successful direct mail campaign. In fact, studies show it takes five to seven touchpoints, or unique interactions a prospect has with your brand, for them to take action and contact you.
About Xpressdocs
Xpressdocs has over 20 years of experience in helping real estate companies manage their brands and provide the best marketing tools for their agents. Be sure to check our weekly blog and our 2022 Real Estate Marketing Guide for more tips and advice for real estate agents.