Seasonal Marketing
7 Real Estate Tips to Boost Your Marketing This Fall
Fall is a time when the days are as crisp as the apples, and people love to add pumpkin spice to well, everything. Although you may have already written off this coming autumn as the slow season of an already difficult year in real estate, don't miss your chance for some great marketing opportunities. Remember that marketing happens all year long, and the impressions you make this fall can bring you to prospects' minds when they're ready to jump into the market down the road. We've gathered some inspiring tips to help you nail your marketing throughout this colorful season.
7 Easy Tips to Boost Your Fall Real Estate Marketing:
#1: Show that You're an Expert
When inventory is short and mortgage rates are high, only the most dedicated buyers and sellers will be out this season. Let them know that you're the expert real estate agent to work with during times like these. Keep close tabs on your local market and have data about recent sales in your local area ready to go so buyers and sellers can know what to expect. Although national trends may show a slower market overall, that's not necessarily true for all areas of the country (looking at you, South and Midwest). Market yourself with your local area in mind.
#2: Make Exceptional Materials
On top of thinking local, make sure your fall real estate marketing materials stand out in unique ways. Inject a bit of your personal brand into your designs (while following your parent company's guidelines, of course). Take advantage of the variety of free designs available in your Xpressdocs storefront for fun, seasonal marketing for autumn to boost your fall real estate marketing. Use professional finishing options on your business cards and brochures to add a luxe touch. Take advantage of technology in your printed materials by using QR Codes, print+video, which incorporates an LCD screen into print product, or Unibind presentation covers for a more exclusive experience.

#3: Create Multi-Purpose Content
Did the postcard you used in your most recent direct mail campaign generate a lot of responses? Continue that success on another channel by repurposing the successful message and images for the fall. Easily transfer the bones of your postcard designs to a digital format, shareable on social media, using Xpressdocs' solutions such as Automated Property Marketing. Take advantage of XD+ Reach to post your designs straight to Facebook Ads.
#4: Think Long Term
Sometimes growing your farm is a long-term strategy in which you need to nurture relationships. If you're looking for a customer base with long-term loyalty, now is the time to start building it. A digital or print newsletter you send out to your network can be an effective touchpoint. If you have a knack for writing you can create your own newsletter, or you can leverage our prewritten, customizable Smartdigs newsletters to create frequent sends that position you as an industry expert. There will always be people who are ready to buy or sell because of a new job, a change in a family situation, or a new financial condition. Make sure your name is out there as someone who is ready to help whenever a client needs it.
#5: Broadcast Your Success
Part of being a go-to agent is keeping your client base informed, so don't forget to let them know when you make a successful sale! Don't think of sharing your success as being boastful or over the top. Think of it as an opportunity to shape your audience's perception of you. One way to share your successes in a tangible way is with a "Just Sold" campaign. Show off your sales with an integrated campaign of direct mail postcards, social media posts, and "Just Sold" yard signs. As your audience sees your successful sales, they will be more likely to contact you when they are ready to sell their home.
#6: Ask for Referrals
Have you made some great relationships with former clients and others in your network? Ask them for a referral! Referrals are a powerful way to build confidence in your brand. According to research by Nielsen, 92% of consumers trust referrals from people they know. Just ask your network to refer your business to others or have them provide some names of people they know who are trying to sell their home. Referral programs are most successful when you provide an incentive for giving a referral, such as a gift card. Get ideas on how to rack up referrals in this blog article.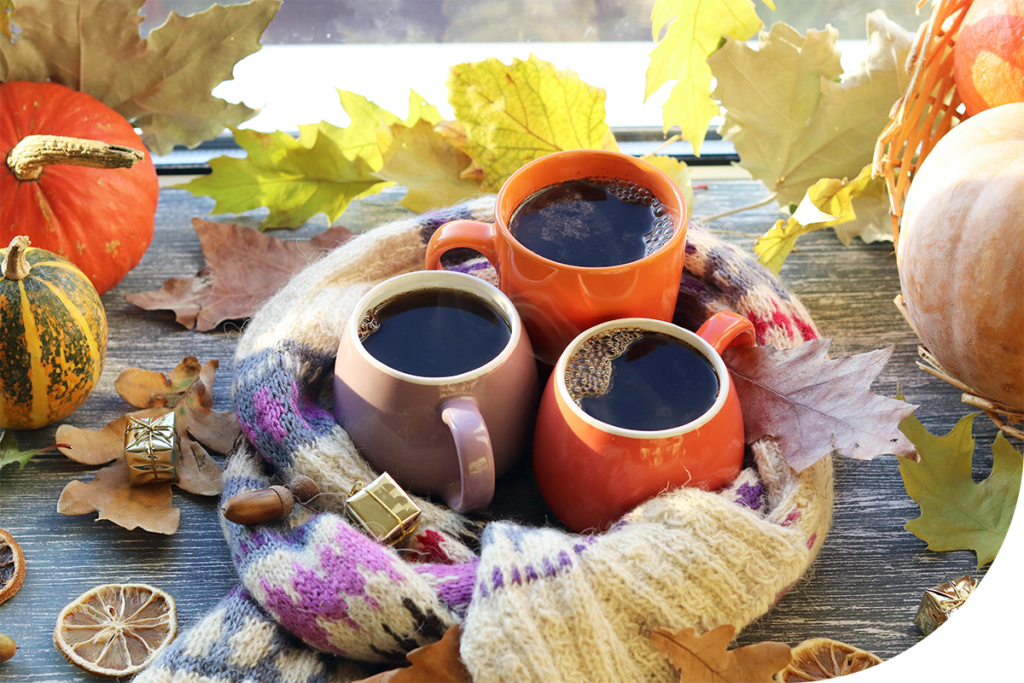 #7: Enjoy the Spirit of the Season
Create your fall marketing campaigns with the seasonal aesthetic in mind. As a real estate agent, you're the local expert for your area. Create a curated list for a postcard campaign or digital newsletter of all the fun autumn activities in your area: apple picking, corn mazes, pumpkin carving, haunted houses, fall carnivals, and friendsgivings. Find out how you can partner with local business owners who are hosting fall events. Can you set up a booth at the hayride and pass out your business card with some treats? What about providing pies from a local pie shop for your clients this Thanksgiving?
That was a lot of information. As a recap, here's the bullet point list of what you can do now to prepare for this Fall:
Think Local. Be the expert in your market.

Create great fall-themed marketing materials, and use them more than once

Shout your marketing messages across multiple channels (print, digital, email, social media)

Nurture long term relationships by providing expertise

Broadcast your recent successes

Build your referrals

Incorporate autumn events and activities
How Xpressdocs Can Help
With 20 plus years of experience with real estate marketing and brand management, Xpressdocs has the solutions and expertise to help you create integrated campaigns that combine several of the tips mentioned. Log into your company branded storefront today to browse solutions, downloadable social media templates, and print designs, or create an account to get started on your perfect marketing mix for this season.