Xpressdocs Marketing Center
Benefits of Using QR Codes in Direct Mail Marketing
QR Codes have come a long way since their introduction in Japan in the 1990's. This is due to two developments in the last few years. One, QR codes became scannable on smartphones without a separate app. Two, our society had the need for easy, no-touch options to get information to people. Now it's likely even your grandma knows how to scan a QR code, making them an accessible marketing tool for most consumers. Here are some benefits of using QR codes in your marketing campaigns, and how to use them effectively in direct mail and real estate marketing.
What are QR Codes?
For the uninitiated, QR codes are two-dimensional barcodes that consumers can scan on their smartphones in order to access online information. This information can lead the customer to a company website, landing page, or social media page, allow them to access a special offer, coupon, or free gift, or even register for a special event. They can be used effectively as part of multichannel marketing campaigns, since they easily provide an interactive digital link on a physical marketing piece, such as a flyer or direct mail postcard.
Benefits of QR Codes in Direct Mail Campaigns
QR Codes can add a lot to your direct mail campaigns by adding a tech element to a traditional form of marketing. By incorporating QR codes in direct mail campaigns, companies can promote their online presence while still offering customers the type of contact they prefer.
Eliminates Some Response Barriers

During a direct mail campaign, customers often don't act right away on an advertisement they receive in their mailbox. By incorporating QR codes into the mailing, you offer the consumer the ability to access more information through your company's online presence than you can include in a simple postcard or mailing. The immediacy of this link to information makes it more likely for a customer to act on your advertisement.

Adds a Point of Interest

Unlike one-dimensional bar codes that are familiar in retail settings, QR codes in direct mail campaigns can be customized artistically. QR codes have an error level tolerance built into the code that allows for various colors and designs to be used to make the code stand out. Codes can be embedded in a unique design, adding interest to a mailer.

Allows for Tracking

In the past, it was notoriously difficult to track the effectiveness of a direct mail campaign. (You can't track "open rates" like with email.) However, QR codes offer an easy solution to this problem. By including a QR code that links to a specific landing page, you can track how effective your campaign is by counting how many people access the landing page or scan the QR code.
QR Code Tips
By following a few tips, you can make the most out of the use of QR codes in direct mail campaigns and increase your customer base significantly.
Size Matters

: When using a QR code on a printed piece, size matters. Small or complex QR codes can actually work against your campaign by being difficult to scan. This could result in a less-than-successful marketing campaign because customers will struggle to interact with your brand.
To Make a QR Code: Online QR code generators are generally easy and free (or inexpensive) to use and offer many types of codes with a variety of features including tracking and analytics. Some also allow for customization, such as including your logo inside the code graphic.
Test it Out: Before including a QR code in your advertising campaign, test the code using your phone (and a few friends' phones) or an online QR code tester to be sure the scanning works properly.
Make it Valuable: Although customers may find it fun to link to your website using a QR code, more will enjoy accessing a site that gives discounts or special offers they can only get by using mobile marketing technology. By giving customers something of value, they will be more likely to continue using the QR codes you provide.
Ways to Use QR Codes in Real Estate:
One industry that can benefit from using QR codes in marketing is real estate. Here are a few ways to use the codes effectively: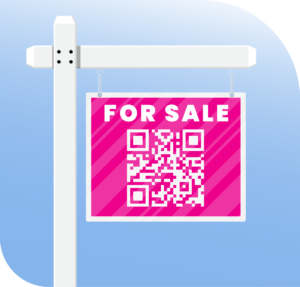 Yard Signs
One place many real estate agents have success with QR codes is on yard signs. Placing a QR code on a yard sign allows someone who is passing by to scan the code and access a website that has photos, property details or even a link to a virtual tour of the inside of the home. Experts suggest that real estate agents don't just link to a generic website with multiple listings but instead link the code to the specific home where the yard sign is located.
Printed Materials
Printed materials are one of the best places for real estate agents to use QR codes. Placing a QR code on a business card allows a customer to scan it and immediately add your information to their contacts. Including a code on a house flyer allows you to link prospects to virtual tours and additional details about the home that you may not be able to include on the flyer. Placing QR codes on postcard mailings allows customers to use their phone to immediately access an online link to relevant information about the message on the postcard, such as a new listing, Open House, or just sold home.
Printed Advertising
Including a QR code in a print advertisement is also a good way for real estate agents to draw customer attention and link the digital with the physical. By including unique QR codes for specific houses in printed advertising, customers are able to access additional information about a property that may be too expensive or space prohibitive to include in the printed advertisement. QR codes can also be printed on promotional items, such as key chains, magnets, Frisbees, or any other item your company hands out at expos and trade shows.
But Wait, There's More!
According to the Multichannel Marketing Report's 2019 study, direct mail response rates are 28% higher when combined with a digital tactic, which goes to show direct mail and digital work better together. Making a sale is all about racking up those touchpoints and presenting prospects with unique opportunities to connect with your brand. You'll make much more of an impression on a potential customer if you pair your direct mail postcard with a QR code.
About Xpressdocs
Incorporating tech into your marketing strategy, even with direct mail, is easier than you'd expect, and the results are impressive. Xpressdocs has been in the direct mail marketing game for over 20 years, and we have the expertise to help your campaigns truly produce results. Check out other resources on our blog for building a winning marketing strategy.