Reclaim Your Time with Automated Direct Mail
Let Tech Do All The Work.
Book a 30-minute demo with our Solutions Consultants to learn more about how Automated Direct Mail can increase response rates while saving time and money.
Today's Direct Mail
Still a Really Big Deal
Direct mail campaigns are all the rage these days. And why not? With an impressive ROI that continues to surpass digital messaging, savvy companies have their eyes on the next big target (that's been here all along) — the mailbox.
With demand for direct mail going bonkers, automation technology has stepped up to carry the busywork burden and provide worn out marketers with some much needed breathing room.
33%
of consumers report feeling overwhelmed by tech. For parents and adults working from home, the rates are even higher.
73%
of American consumers prefer being contacted by brands via direct mail because they can read mail at their own convenience.
40%+
of direct mail recipients read or at least scan direct mail pieces that they receive.
Why Automate Your Direct Mail Campaigns?
Because total world domination happens one mailbox at a time.
Back in olden times, sending out a sharp-looking mailer involved some manual labor. From finding a decent printer and addressing envelopes to visiting the post office (in person), the logistics felt overwhelming to many a well-meaning marketer.
Until automation stepped in. And the gains were abundant:
• Time & Cost Savings
Automated Direct Mail means increased efficiencies. Period. When your crew doesn't have to execute new campaigns all on their own, they can spend more time strategizing ways to grow your business. And when repetitive tasks get offloaded to tech, costs go down.
• More Personalization
Automation software works with your existing database to ensure each mailer contains the first and last names of your customers, and its built-in analytics mean you can better understand your customers' habits and preferences to tailor future communications to them.
• Fewer Inaccuracies
With automation, as long as you maintain accurate customer data, you take out human error. You won't have to worry about a team member typing the wrong address or misspelling a name.
• Trackable Results
Although you can track traditional mailings, there's more effort involved. With direct mail automation software, you can add QR codes to mail or get trackable links that let you view and report on status updates.
How ADM Works
Our Automated Direct Mail solution helps you send one-to-one personalized communications with ease and efficiency but demands little upkeep.
1. Define a Trigger
Define an event that will trigger a communication from your business, like the last date of service, the anniversary of a home closing or a birth date.
2. Determine Action
Determine what action to take when the event is triggered, like sending out a special three months after the last date of service, or sending out a birthday card two weeks before a birth date.
3. Create
Create your message and identify variables for personalization, such as a name or a promotion code. Data, images, and design templates can vary for each recipient. Add QR codes or trackable links to track the success of your mailing.
4. Distribute
Xpressdocs will take it from there. From a single postcard to thousands of pieces of mail, our automated mailing service will print your assets in-house and mail them the next business day.
Wait. What's a Trigger?
In real life, your marketing team can't control what customers do or what order they do it in. But they can control how your business responds to customer behaviors, or triggers.
A trigger-based approach means marketers do nothing until the customer prompts it. This strategy puts marketing communications in deliberate order, allowing the customer's habits and preferences to lead the way. Or explained another way, if X happens, then do Y.
With triggered marketing, your messaging creates a more personalized customer experience, leading to increased conversions and a healthier bottom line.
One Tech, Endless Use Cases
For Automated, Personalized Communications to Prospects and Customers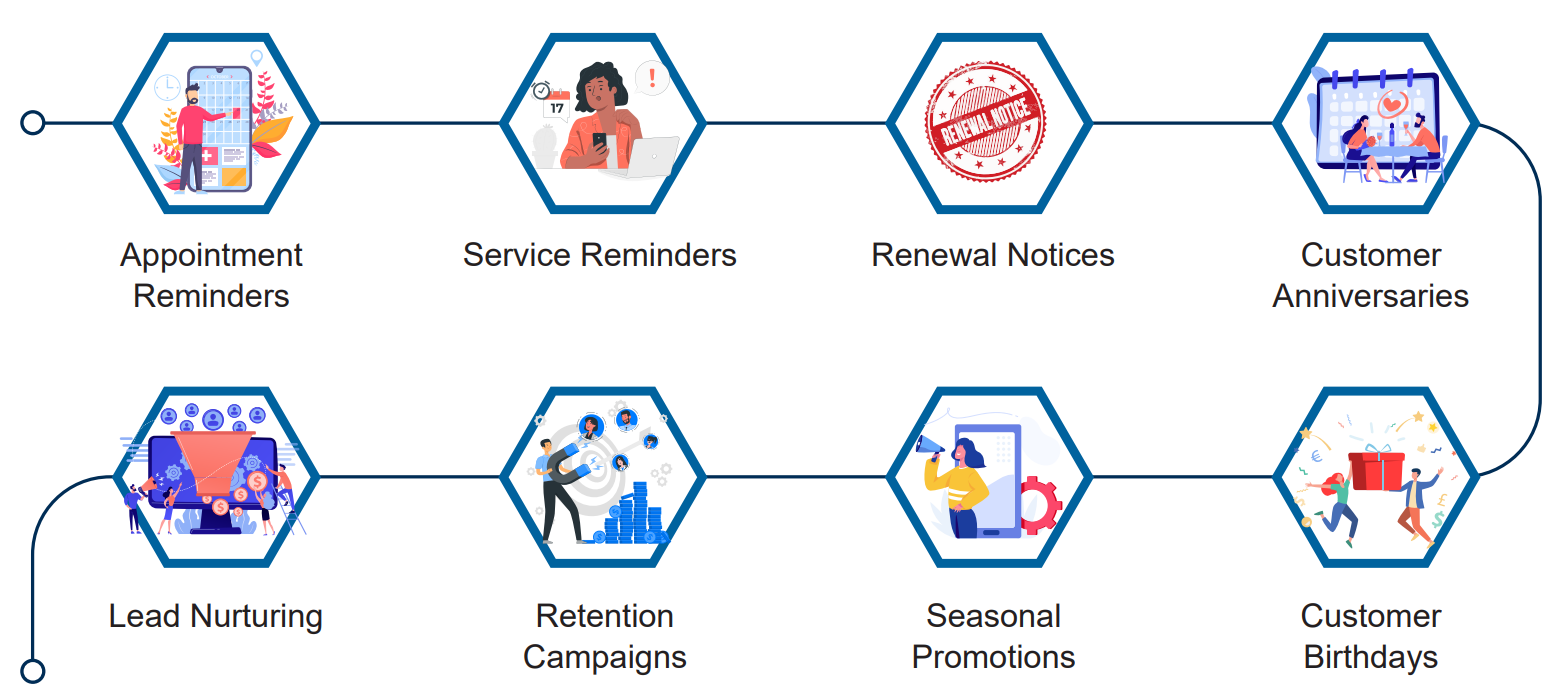 The Xpressdocs Difference
We Love Making Our Customers Look Like Superheroes
As your direct mail processes get simpler and you mix up how/where/when you message customers (with little effort), you make each touchpoint with your business more positive. Customers feel seen and well cared for. Your team doesn't fall over from exhaustion. Everyone high fives.
We know there's a lot of automation technology on the market. That's why Xpressdocs offers perks that go beyond the software itself.
In-House Printing and Mailing: Our 245,000 square-foot facility has digital and offset printing capabilities, complete with a crew of shipping/mailing experts armed with the highest level of automation with the U.S. Postal Service (hint: that's why your goods fly out our door in record time).
On-Site Solutions Consultants: Real humans who provide real guidance in real time. Really.
Customizable Templates: Need inspiration for upcoming campaigns? Done. Our clients get access to dozens of fresh, pre-designed templates ready for your brand's logos and color schemes.
Pay as You Go Pricing: There are no monthly or annual subscription fees; customers pay a flat rate for 12 months based on their cumulative yearly volume across all product types, with straightforward 30-day net billing.
You'll Also Enjoy:
Seamless Integration
This tech can integrate with any existing CRM or practice management software on the market. So your team never has to sweat the learning curve.
Speedy Turnaround Time
From event trigger to mailbox, our response times are the fastest in the industry.
Extreme Scalability
Send one communication or hundreds of thousands. Our Automated Direct Mail solution can handle orders of any size with no minimum orders.
Xpressdocs Automated Direct Mail

Award-Winning Software

MarTech Breakthrough, a leading market intelligence organization that recognizes the top companies, technologies and products in the global marketing, sales and advertising technology industry, has selected Xpressdocs, a leading provider of brand management and direct marketing solutions, as the 2022 winner of the "Best Content Personalization Software" award in the fifth annual MarTech Breakthrough Awards program, recognizing the breakthrough Xpressdocs Automated Direct Mail solution.
We're Here To Help
Still Curious?
Book a 30-minute demo or reach out to one of our skilled Solutions Consultants today!