Protect Your Marketing Materials with Postal Protect®
Exclusive to Xpressdocs customers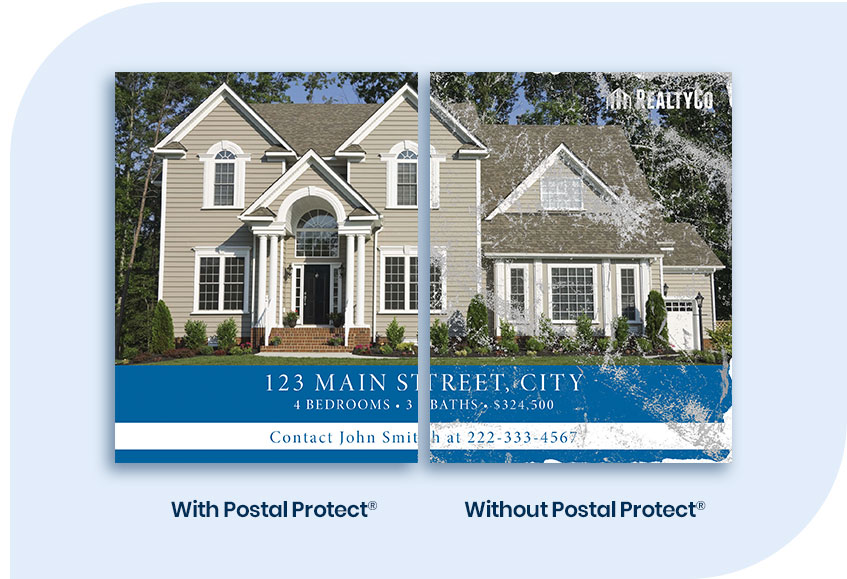 Postal Protect®
Have you encountered ugly marks or smears on your direct mail materials? You might assume they are simply printing errors. However, most print facilities (including Xpressdocs) undergo several thorough quality checks before the final product is sent off, so printing errors are quite rare. So where do these imperfections come from?
The culprit lies within the  hard-working sorting machines in postal offices. The Postal Service processes an average of 292,628 pieces of mail each minute. Inside the sorting machines are rollers and belts that quickly sort the mail into bins. These belts and rollers put such pressure onto the mail pieces that they sometimes penetrate the inks, toners, and UV coating, leaving an unattractive smear or mark on the surface. Occasionally if the material is too thin, these rollers and belts can even tear or rip a mailpiece.
So how do you stop this from happening? This is where Postal Protect® comes in! Our specially formulated coating is designed to withstand the pressure of USPS sorting machines and add a light thickness to the mailpiece making it more robust and less likely to tear.
Postal Protect® Features:
We believe that every detail counts. That's why we have meticulously developed these finishes to ensure they enhance your postcards and reflect the quality and care you put into your brand. Postal Protect® is available in a Gloss, or Soft Touch finish on a variety of product sizes.
Available for Small, Large, and XL Postcards

Usable with gloss and soft touch coatings

Gloss coating – no additional production time needed

Soft touch coating – 2 additional business days needed
Ready to see for yourself? Add Postal Protect® to your next order to safeguard your next campaign.