Brand Management
How to Create a Winning Customer Survey that Will Get Results
If you've spent some time with our blog in the past year, you know we've already discussed the importance of periodically performing a brand audit to make sure your company's branding is consistent. Making sure you have a clear message is key to buyer perception of your brand, which can affect your place in the market. Brand audits help you determine if you're making or missing the mark in the eyes of potential customers, which is valuable information to know!
But how do you actually gather the data for your brand audit? This is done through internal and external surveys. To get the most useful and accurate data out of your customer surveys, there are a few things you'll want to keep in mind. Here's our guide on how to create a winner:
1. Check Your Resources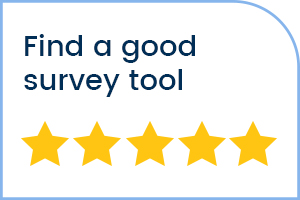 First thing's first, consider how you are going to build out your survey. Don't just type up some questions in an email and call it good. People are more likely to respond to your survey if it's organized in an easy-to-use tool. Does your company already subscribe to a marketing software that provides survey creation tools? For example, HubSpot has an easy survey builder that can help you get started, or you can use SurveyMonkey for a tried-and-true free option.
2. Figure Out What You Already Know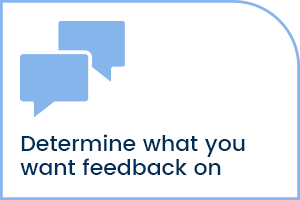 Stop a minute and consider – what do you already know about customer interactions with your product or service? When a customer calls in for customer service, does the department provide them with a survey or a way to leave a review? What are clients saying about you online on Yelp, social media, or Google Reviews? Gathering data from all of these sources will help you get an idea of how your business is perceived – the positive and negative included. Build off of this information to see where you want to dig in deeper on your survey.
3. Build Your Customer Survey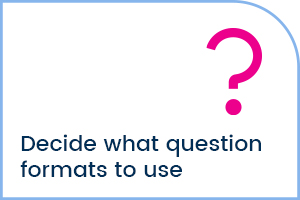 After taking a look at the reviews and data you already have, does it spark any questions in mind that you'd like more feedback on? If customers are sharing negative feelings about your order process, what types of questions do you want to ask about the process in your survey? Do you want to open up a fill in the blank or open-ended question with suggestions for improvement? Maybe customers love your quarterly market updates. Would you want to ask them if there are any other ways you can help provide expertise?
According to SurveyMonkey, some of the most common types of survey questions are:
Multiple choice questions
Rating scale questions
Likert scale questions (do you agree or disagree with this statement?)
Matrix questions (used when you have several questions in a row with the same response options)
Dropdown questions (a dropdown with multiple options you write yourself)
Open-ended questions (fill in the blank)
Demographic questions
Ranking questions (multiple options you write for the respondent to rank)
Check out some tips on building great customer survey questions tips on building great customer survey questions.
4. Get Your Questions Out There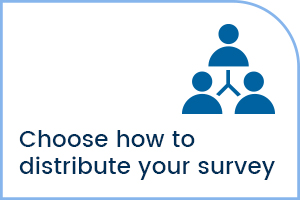 Once you get your customer survey written, have you thought about the best way to disseminate it? Do you have an active email list of loyal customers or a client group on social media that would be willing to participate? Start there. Consider putting a temporary button or link on your website to the survey in an easy-to-see spot. Even send it out on printed mail through a QR code that links to the survey. If you're not getting very many responses at first, don't sweat it. Come up with a cadence for sending out email reminders about the survey (while making sure the emails aren't too repetitive or intrusive.) You could also consider offering a small reward for taking the survey, such as a $5 gift card or a 25% off coupon for one of your products or services.
5. Crunch Those Numbers

Once the data starts rolling in, you may feel like you can just eyeball the responses to get an idea of customer sentiment towards your brand. However, one really positive or negative response may sway your perception even though it doesn't actually represent the full picture. Keep yourself from being swayed by those outliers by taking the time to analyze your survey data. If you used rating scale questions with a scale from 1-5, you could easily find the average response number for those questions. If you have fill in the blank responses to questions, make sure you have a member of your team read through each and every one. They could even assign a number to each – 1 for very negative, 3 for medium, and 5 for very positive – to help you find a numerical average for your qualitative questions.
6. Make Conclusions and Implement Changes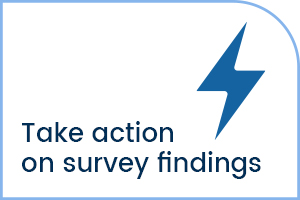 This step is the most important part. If you create a winning customer survey and gather excellent data, but don't put any of it into action, then what's point? You have to be willing to make changes off of the survey data you gathered, even if you don't like what it says! Perhaps customers mention that your logo is difficult to read and not very memorable, but it's sentimental to the owner of the company. Well, the data says for the sake of your brand, a change needs to be made!
7. Keep Managing Your Brand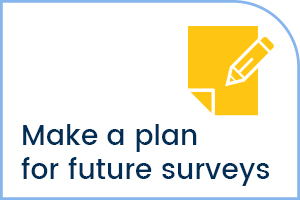 Great work on successfully creating your customer survey and implementing changes! This is all part of doing a larger audit of your brand. Experts suggest you perform a brand audit at least annually, so here are some tips from Xpressdocs' free brand audit guide when you're ready to gear up for the next one.
About Xpressdocs
Xpressdocs has over 20 years of experience helping our clients manage their brands through customizable brand management platforms. Take the stress out of keeping your locations brand compliant with approved items loaded directly to your platform for easy access from anywhere. Want to learn more? Contact us at info@xpressdocs.com or 1-(866) 977-3627  or fill out the form below.