Knowledge base
Automated Direct Mail: Your Answer to the Changing Marketing Landscape
The marketing landscape is constantly changing, and in order to market your business effectively, you have to be on your toes. Now that more protections are being enforced around consumer data and cookies are being phased out, you may be wondering how to effectively gather leads without the passive tracking resources you've come to rely on. Despite being labeled as old-fashioned, one of the oldest marketing avenues continues to be one of the most effective for gathering first-hand responses from consumers: direct mail.
Direct Mail Works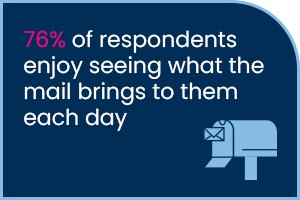 Direct mail campaigns get high response rates because people still enjoy getting mail. In fact, according to the USPS Mail Moments Spring Review 2022, 76% of respondents enjoy seeing what the mail brings to them each day. There's also a good chance recipients will read and act on marketing mail received in their mailboxes – over 60% read marketing mail before discarding, and half of respondents have tried a new product or service after receiving marketing mail.
The returns from direct mail campaigns are attractive, but you may be put off by the steps involved in creating a campaign for your business. Luckily for you, direct mail has kept up with the times and integrates well with technology, eliminating the need for gathering addresses manually or stuffing envelopes by hand. In fact, a turnkey solution exists that will create direct mail campaigns, and mail directly to your clients, over and over again with minimal set up. It's called Automated Direct Mail.
What is Automated Direct Mail?
Automated Direct Mail (ADM) uses an online platform system to automatically send out direct mail campaigns based on factors, or triggers, you choose. Once a trigger is chosen, like a service reminder or a renewal notice based on a certain date, the system will send out personalized mailers to your client base without any effort on your part.
Benefits of Automated Direct Mail
Automated Direct Mail simplifies your marketing process, but it has other benefits as well:
Time and Cost Savings:

Automated Direct Mail means increased efficiencies. Period. When your team doesn't have to execute new campaigns all on their own, they can spend more time strategizing ways to grow your business. And when repetitive tasks get offloaded to tech, costs go down.
Easier Personalization:

Automation software works with your existing database to ensure each  mailer contains the first and last names of your customers, and its built-in analytics mean you can better understand your customers' habits and preferences to tailor future communications to them.
Fewer Inaccuracies:

With automation, as long as you maintain accurate customer data, you take out human error. You won't have to worry about a team member typing the wrong address or misspelling a name.
Trackable Results:

Although you can track additional mailings, there's more effort involved. With direct mail automation software, you can add QR codes to mail or get trackable links that let you view and report on status updates.
What to look for in an Automated Direct Mail Solution
ADM makes creating and mailing out direct mail a breeze – as long as you choose a platform with the right tools. As you start your ADM journey, here are five things you should look for in a truly comprehensive solution:
1. Personalization:
The solution should allow you to personalize each direct mail piece to the individual recipient.
Personalizing your automated direct mail is one of the main drivers of increased ROI. When looking for an Automated Direct Mail solution, make sure the one you're considering allows for high levels of personalization of variable data and images. such as customer names and addresses, purchase history, and images of their local agency or franchise location. This level of personalization can significantly improve response rats compared to traditional, generic mailings. Just look at the data:
2. Integration:
The solution should integrate with your existing CRM or marketing automation platform to ensure accurate and up-to-date customer data.
Automation is synonymous with ease of use, so don't make your marketing process clunkier by choosing an ADM solution that doesn't plug straight into your existing systems. Make sure you're onboarding a system that integrates directly with your CRM and updates automatically, so your customer data flows freely into the new system without any headaches for you.
3. Customization:
The solution should offer a range of customization options, from selecting the type of mailer to choosing the size, color, and design of the piece.
Make sure the ADM solution you choose allows you to send out several types and sizes of mailers so you can engage your customers with multiple types of direct mail touchpoints. A top-of-the-line solution will be capable of sending out postcards, flyers, letters, brochures, and more so you can catch prospects' attention with variety.
4. Analytics and reporting:
The solution should provide detailed analytics and reporting on the effectiveness of your campaigns.
Your Automated Direct Mail solution should provide a way to track the results of your campaign through trackable links or QR Codes. Find out what metrics you are able to track with your system to make sure it aligns with your marketing goals.
5. Scalability:
The solution should be able to handle high-volume campaigns, so that you can grow and expand your direct mail efforts over time.
Direct mail campaigns are most successful when they are repeated, with several rounds of mailers going out at intervals, Make sure the ADM system can accommodate multiple multi-step campaigns at one time that will grow as your customer base grows.
If you keep these five items in mind when selecting an Automated Direct Mail solution, you will be setting yourself up to reap all the benefits of cost savings, easier personalization, fewer inaccuracies, and trackable results. Now sit back, relax, and enjoy the return on investment!
Xpressdocs: Your Automated Direct Mail Experts
With over 20 years of experience partnering with companies to facilitate their direct mail marketing, we have the tools to help your campaigns achieve new levels of success. We offer a variety of tools and services, from Automated Property Marketing to our customizable branded platforms, to streamline your direct mail marketing. To learn more about Automated Direct Mail, check out our award-winning solution, AmazingMail®.