Knowledge Base
3 Ways to Turn Your Presentation Materials Up a Notch
Tips for Creating Top Notch Presentation Materials
As a real estate agent, giving a presentation is one of the most tangible ways to introduce your brand to a client, show who you are, and demonstrate what you're capable of. Since successful presentations are so critical to your job, you want to make sure you have the best tools at your disposal to help you nail it every time. Obviously, that includes practicing your "elevator speech," keeping your facts and figures up to date, and gathering exceptional customer testimonials you can share. But it's not just about what you present, it's how. When it comes to your printed presentation materials, how are you setting yourself apart?
Take Advantage of Luxury Coatings and Finishing Options
When you need eye-catching flyers to show off homes you've listed and sold, don't think you're going to achieve the polished look you need with your home printer. Companies like Xpressdocs are experts at producing exceptional printed materials the real estate industry relies on. A brochure showcasing a beautiful home on professional-grade paper with a shiny UV coating is miles ahead of a hastily designed flyer printed on office paper at home.
When you print through a partner like Xpressdocs, you can choose between several luxury coatings for your flyers, business cards, brochures, and folders, like Soft Touch, High Gloss UV, and Matte. For an extra special flourish, you can also add a variety of finishing options, such as:
Embossing: The embossing process, also called cameo and tool, presses an image into paper so it lies above the surface.
Debossing: The debossing process, also called tool, involves pressing an image into paper so it lies below the surface.
Foil Stamping: The foil stamping process adheres foil with a heated die, so you can highlight details of your piece subtly or boldly with unmissable sheen and shine.
Engraving: The engraving process uses a plate where the image is etched into its surface, causing the ink to raise and create a slightly textured element on your piece.
Thermography: The thermography process involves coating wet ink with a resin powder that is then baked at high heat to produce a raised and textured element on your piece. It produces a similar result to engraving without the use of a metal plate.
Burnishing: The burnishing process is a second step for engraved pieces printed with metallic inks. This method smooths the metallic flakes, resulting in a more polished piece.
Don't Forget About Binding Options
When creating a promotional booklet or pamphlet for your business, there are many binding options to choose from that go way beyond pulling your stack of paper together with a binder clip. Xpressdocs has options that range from simple to showstopping. Going from least complicated to most complicated (and impressive!), we offer:
Corner/Side Stapled: This is the most economical type of binding. The pages are all cut to the same size and a single staple is applied to the top edge. The result is a sturdy binding, but the book will not lie flat when opened. This style is generally less expensive.
Twin Loop/Wire-O: This binding holds pages in place with a double-loop wire inserted through holes on the left edge. It doesn't spiral through the book but creates a wire comb. The pages lay flat when opened and can rotate 360 degrees. Wire-O bindings are durable but don't permit printing on the spine.
Spiral Bound: This method punches a series of small holes into the pages, and then a spiral coil is screwed into the holes from one end of the book to the other. The coil binding can be plastic or wire, and it allows the piece to lie flat and double over.
Saddle Stitch: The pages are folded and inserted into a folded cover, then stapled through the fold along the spine. This binding is suitable for both self-covered books (the front and back cover are the same as the guts/interior pages) and books with separate covers.
Perfect Bound: PUR glue is applied to the spine of the pages, and the cover is then glued to the page block. This option is commonly used for commercially produced paperback books and is cheaper than case bound.
Adhesive Case Bound: Full-color, gloss, or cloth cover that can be foil stamped. Available with or without a dust jacket.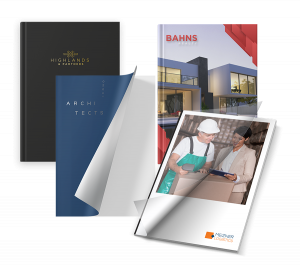 Unibind
Speaking of binding options, have you heard about Unibind? Unibind is a binding system that produces high-quality, custom presentation booklets using thermal binding. It's faster, easier, and produces more impressive results than traditional technologies like wire or staple binding. The Unibind system is compact and can sit comfortably on a desk, letting you create professional presentations within minutes, without having to order them through a provider.
If Unibind is available through your storefront, you can order the system and the type of covers you'd like for your presentations, and then you're set to produce your own materials. If it's not currently available in your storefront, reach out to your account manager for more information.
Your Presentation Partner
Xpressdocs has been a provider of the high-quality printed materials real estate companies need for over 20 years. We can help you wow your audience with whatever type of presentation you need, no matter how customizable!