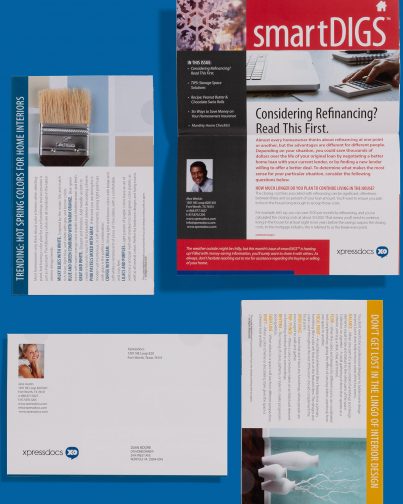 smartDIGS
Engage clients, build brand awareness, and provide useful content with Xpressdocs' pre-written newsletter, smartDIGS.
We understand that crafting high-quality, continuous content can strain your time, and as a busy professional, time means everything! To ease your marketing burden, we offer a monthly newsletter—written by our in-house experts, geared toward homeowners, and customizable to complement your brand.
The Benefits of smartDIGS
In today's environment, thriving businesses prioritize customer engagement at every turn. smartDIGS enhances your existing communication efforts by offering timely, clever content that keeps folks loyal to and interested in your brand. Adopting our pre-written newsletter means:
You offer customers content they can use – Every issue features useful tips for around the house, seasonal recipes, a monthly home checklist, and relatable news.
You establish brand awareness – With customizable sections (introduction and contact details), your people know smartDIGS comes from you!
You save hours and dollars – Content creation takes time. Time is money. Enough said.
You stay top of mind – Remain on customers' radar with regular communication without the hassle…you can pre-schedule issue deliveries up to 90 days in advance. Because you never want to miss an opportunity to engage.
How to Get Started
Since smartDIGS targets current and prospective homeowners, it can apply to a massive demographic.
To take advantage of our newsletter-made-simple, head to the Personal Marketing tab on your storefront and select smartDIGS. Once you choose the color scheme, add your contact details, and customize the introduction, we handle the rest.