Most of us don't plan exactly what we're going to say, and how, before striking up a conversation. That's life. However, that's not good marketing. Launch a direct mail, email or social media marketing effort without contemplating the key messages, the market, the medium you'll use and the design of the materials, and you'll most likely regret the results. Instead, impress your target audience by including the following four elements in your real estate marketing strategies.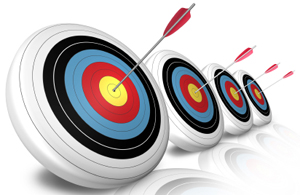 The Market
Before launching any marketing effort, the first thing you'll want to determine is, who's going to be on the receiving end. Will it be current customers, past customers, prospective customers, or perhaps customers that live in a subsection of your target market? Before you answer "all of the above," consider this: Marketing efforts that speak directly to a subsection of your total target market will always perform better than mass mailings.

That means, once you acquire a good-sized mailing list, you need to start looking for ways to break it into smaller segments for more targeted mailings. For example, if you're a real estate agent, you could send:
A marketing effort to your referral resources crowing about some of your recent successes.
A different marketing effort to current clients emphasizing what a great time it is to buy.
And another marketing effort to past customers offering home-maintenance tips.
Don't have a large enough mailing list to do all this segmenting? Purchase one (then design one marketing effort for the homeowners on the list, and another for the apartment dwellers).
Here's another tip: Focus your efforts on the segments of your list where you'll most likely have more success (not necessarily the segment where you've experienced the most marketing success in the past, but rather the grouping where the potential seems greatest). The subgroups with a real affinity for your product or service will buy more, buy more often, and be more likely to spread the good word about your business.
The Message
No matter what group you're addressing, you always want to project a unified, cohesive image that emphasizes what makes you unique and better suited than your competitors (the number of years you've been in business, a higher level of customer service, lower prices, whatever).
The subject matter of your marketing effort will differ based on the group you're targeting, but how you position yourself should remain consistent. In marketing-speak, this is called branding.
Other messaging tips:
If your target market most likely isn't interested in something, don't write about it.
Keep things personal. In other words, focus on the consumer not your company.
Make sure the reader understands how they'll benefit – and why they'll be better off using your product or service. (Don't simply list the features of your product or service; talk about the benefits of those features.)
Include facts and figures whenever possible, while downplaying sales hype, clichés and general statements.
Include a special offer whenever possible – that's what really gets most consumers excited.
End every marketing message with a clear, concise call-to-action (i.e. "Want to find out more? Consider this a personal invitation to pick up the phone and give me a call at 555-5555").
The Medium
Most people are open to a variety of marketing efforts but have preferences about which is used for what kind of effort.
Finding new customers.
Winning back the business of former customers.
Introducing new products / services.
Inspiring your target market to take action (especially via special offers and contests).
Email excels at:
Providing ongoing reasons for prospective customers to finally move ahead with a purchase.
Announcing awards, new-hires, product / service changes and other news.
Positioning someone within your organization as a trusted industry expert (via articles about timely topics).
Facebook, YouTube, blogs and other social media tools are well-suited for:
Staying in touch without being a bother.
Making prospective customers feel more comfortable about doing business with you.
Offering answers to frequently asked questions and other common customer service requests.
Providing staid information in a livelier format (product-demonstration videos, home tours, on-camera interviews, etc.).
Telemarketing is acceptable only when:
You already have a legitimate business relationship with the person, and they've specifically stated it's okay to call them.
Another factor to consider is the age of your targeted audience. In general, generations X and Y are more accepting of high-tech marketing communications (blogs, Twitter, YouTube, etc.), while Baby Boomers prefer more traditional methods (direct mail, telemarketing, email, etc.).
The Materials
How you frame, arrange and emphasize your key selling points will also make a big difference.
Consider using a sub headline (a bold line of text that sits directly beneath the headline and further emphasizes the key message).
Summarize the best benefits of your product / service in a sidebar.
Underline and bold key statements buried in blocks of text.
Consider using headers to break lots of text it into easily digestible bits.
Restate your offer / call-to-action in a postscript (or "P.S.") at the end of every marketing letter.
Include customer testimonials to make people feel more confident in your business.
If you include any photos, make sure they mimic the look of the people and neighborhoods you're targeting.
The bottom line: communicating just a few key messages in a way that truly resonates with a specific target market will put you in the winner's circle every time.
For more information about our services, including real estate marketing products, check out our full list of marketing solutions.