One of the best real estate marketing ideas is to use promotional products, such as pens, notepads and other items, branded with your company logo, yet many companies overlook the benefit of such products.  Branded real estate promotional products keep your logo and company in the mind of everyone who uses those items, as well as the people around them who see the products being used.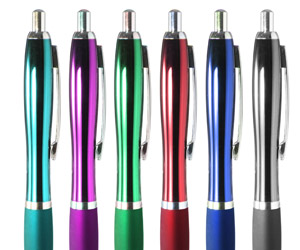 Instant Recall
According to the latest survey from the Promotional Products Association International, 88 percent of people who received a promotional product during the past year remembered the advertiser imprinted on those items.  In addition, the survey found that 53 percent use a promotional item at least once a week or more often.  With such a large percentage of people remembering your company because of a free pen or coffee mug, it is easy to see why promotional products are one of the best real estate marketing ideas.

Why Promotional Products Work
Many companies look at promotional products as everyday items, thinking that the average consumer pays no attention to them.  The fact that such products are everyday items is what makes them such a great real estate marketing idea.  The average television commercial is only 30 seconds, and many consumers leave the television set during that time.  When reading print media, consumers tend to flip past advertising much more quickly than the story or article they want to read. However, promotional products constantly remind the user of a shared relationship with the business that provided the item.
Best Types of Promotional Items
The type of promotional items that work best often depend on the company that is giving the item.  Electronics are especially popular, such as iPod and cellphone accessories, or consider providing listing information on branded thumb drives.  Fitness enthusiasts often enjoy branded athletic gear and accessories, such as water bottles and hand towels.  Branded candy is one of the newest real estate marketing ideas that might just keep your business in the minds of your customers with a sweet tooth forever! However, the traditional pens, calendars and notepads remain popular everyday items with consumers, making them ideal for real estate marketing strategies.
Part of an Overall Marketing Campaign
Although a great real estate marketing idea, promotional items must be used in conjunction with an overall marketing program.  Direct mail and email marketing tools are still important to your marketing campaign, but even if you are using them on a regular basis, there are still times when your brand is out-of-sight, and, for consumers, that puts it out-of-mind.
If your marketing budget is small, but you want to offer a big impact, promotional products are the perfect real estate marketing idea. Learn more about Xpressdocs' products and services, including our customized real estate promotional products.