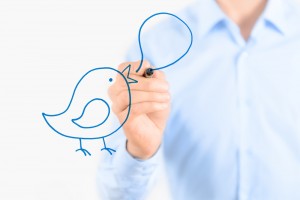 Social media is an important real estate marketing tool, and Twitter is no exception. The fact that Twitter limits posts to 140 characters makes it easy for users to follow trending topics and offers the ability for consumers to connect globally. That's why using Twitter in your marketing plans is crucial for lead generation and networking opportunities.
Customize Your Profile
If you plan to use Twitter as one of your real estate marketing tools, be sure your profile is complete and includes a link to your company website. Customize your profile with your company logo, and be sure to include a photo of yourself in order to encourage others to follow you on the social media site.
Understand Hashtags
A hashtag, which is simply the "#" symbol in front of a word or string of words, helps followers find your posts on that given topic. For example, "#real estate" helps followers locate any posts related to real estate that have been posted on Twitter recently. You could use a hashtag for a particular neighborhood, town or historic area to focus your tweets on those who may be searching for residential or commercial property in those locations, further enhancing Twitter as a real estate marketing tool.
Be Original
When it comes to social media for real estate, strive to be original when tweeting. If you use the exact same wording repeatedly, people will stop reading your tweets, and may stop following you completely. Twitter can be an excellent real estate marketing tool if you keep your tweets fresh and creative. People want to be entertained and informed when they search on Twitter, so including some humor in your tweets or providing some insightful tidbits of information with a link to additional details is a great real estate marketing idea.
Xpressdocs offers Social HQ, a real estate marketing tool that helps real estate agents manage social networks such as Twitter. Social HQ includes a syndicated content library and lead generation capabilities, as well as tracking and analysis tools designed especially for social media for real estate. Learn more about Social HQ by visiting our website, and be sure to join our Facebook Community and follow us on Twitter for more tips on how to be a social savvy real estate agent.