According to recent predictions from two different companies that study consumer trends, the 2013 holiday shopping season is either going to be one of the worst in recent history for retailers, or just mildly slow. But play your cards right, and your business will be one of the ones that comes out on top when all is said and done.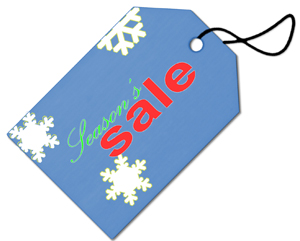 The best way to combat lethargic consumer spending is with creative discounts and exciting special offers. Big discounts can cost big money – and often only produce short-term wins. But if you're creative and strategic with your specials, the benefits will not only be rewarding but long-lasting. Included below are some of our very best ideas.
Offer a discount in return for more marketing access/customer information – This kind of offer not only helps to move product now, it fills your marketing database with valuable customer contact information for later. Ideas include:
"Update your customer profile in the next five days, and we'll give you an extra $5 in bonus rewards."
"Get free return shipping when you register as a VIP customer."
"Sign up for our email newsletter and save 10% on your next purchase."
"Like us on Facebook and we'll ship your next order for free."

Encourage customers to tell their friends about you – Word-of-mouth marketing is one of the most effective forms of marketing. Ideas include:
"Recommend us to a friend, and you'll each receive $25 gift cards."
"10% off your purchase – for you and a friend."

[two 10% discount coupons]

"Renew your subscription today and receive a free subscription you can give to a friend."

"You and a friend are invited to our private shopping event."

"For every $50 you spend, get a free gift card for a friend."

Offer a discount on a future purchase – This is one of the best ways to encourage customers to return (and spend a little more money). Ideas include:

"Make a purchase today and get $25 to use later."

"Loyalty has its rewards: Save 5% on your next purchase."

"Dining rewards: Take 15% off your next meal (with your purchase tonight)."

Combine forces with another company – The cost savings and marketing results can be dramatic for both businesses. Ideas include:

"Show your Green Acres receipt at any of these fine retailers and receive a discount in return."

"Stop in to see our new selection, and receive a $5 discount at Witt's Deli (just next door)."

Offer to support a good cause – Consumers love to support businesses that are helping to do good. Ideas include:

"For every customer that tries on a new dress, we'll donate $5 to the non-profit Dress for Success Organization."

Remove any hurdles – Give your customers more reasons to visit your store and sales will increase. Ideas include:

"Not sure if you want to drive all the way downtown to see our latest selection? Visit our website for a free gas voucher (plus other valuable discounts).

 "If you lose your job in the first year after buying a car from Lafayette Hyundai, we'll put off your payments for three months. If you still don't have income after that period, you can return the car for a full refund."

Create excitement – Create a buzz in the community and get people excited about patronizing your business. Ideas include:

"I'll pay you $500 if I can't save your business 10% on its phone service."

"Every time someone registers for a pre-purchase, the discount increases by 2%."

"You pay what we pay: Receive our Employee Discount this Friday only."

"Monday only: $20 off your final receipt."

Offer more discounts in return for more spending – The more you sell, the more they save. Ideas include:

"Buy any four eligible items and get the lowest-priced item free."

"Free shipping on purchases of $50 or more."

"Spend $100, get a $15 gift card … spend $150, get a $20 gift card … spend $200, get a $30 gift card."

"Save $10 for every $50 you spend."

"Get a free designer frame with the purchase of polarized lenses."

"Bundle your phone, TV and Internet service and receive an even bigger discount."

With these examples and a little creative thinking, you'll be able to create special offers that not only drive demand for your product and services now, but also make your business, and your relationships with customers, stronger for the future.

For more information about Xpressdocs real estate marketing products, please visit www.xpressdocs.com.