Spring is around the corner. Have you decided on your real estate marketing plan for the season? Real estate seasonal marketing is a great way to connect with customers and clients because it applies to most everyone in your sphere. By connecting to your clients year-round, it increases the chances that they will think of you when they need a service like yours.
With spring, the ways to market your business are plentiful. Here are some ways that Xpressdocs can help you market your business:
Magnet Baseball Schedules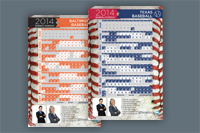 Baseball is one of America's all time favorite sports. That is why our baseball schedules are sure to be popular among your clients.  And they are designed to last all season so you and your clients will never miss a game. Our schedules can be mailed and are available for every American and National league team!
Spring Forward Postcards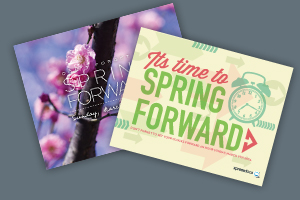 March 9th is fast approaching. Now is the time to send out a thoughtful reminder to your current and prospective clients to move their clocks forward. Your customers will not only appreciate it, but they will think of you next time they need a service like yours. Choose from our selection of colorful designs in large or small postcard sizes.

General Spring Postcards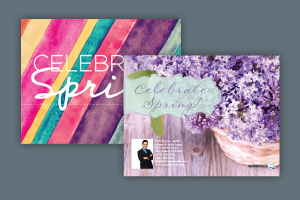 Let's face it, who doesn't like to receive a pretty postcard to celebrate the season? Why not send a postcard just to let your customers know you are thinking of them? These postcards last all season so you can send them at anytime. And with so many colorful designs to choose from, our spring postcards are sure to catch the eye of your clients and customers.
St. Patrick's Day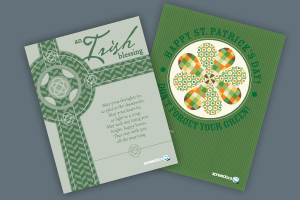 Did you know that we design cards for St. Patrick's Day? From Leprechaun's to a pot of gold, we know you love the holiday as much as we do. Send a postcard to remind your customers to wear green and give them an Irish blessing.
Easter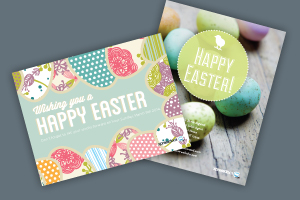 Colorful eggs, a bunny and family – Easter is not only a fun holiday but also a time for celebrating new beginnings. Send a postcard to your friends and customers to let them know you are thinking of them and when it comes time for their new beginnings, such as buying a new home, they will remember you.
Log in to your xpressdocs account to see the full collection of spring seasonal postcards. To find out more about our online and print marketing tools or to help with your personal marketing strategy, visit /. Be sure to join our Facebook Community and follow us on Twitter for real estate marketing tips.