In our previous blog post, "Keyword Stuffing: Learn What It Is, and How It Can Make Your Website a Winner" we taught you the basics about "keyword stuffing." Now, let's talk about the keywords themselves.
Obviously, the key to keyword-stuffing success is choosing the words prospective customers are most likely to type into a search engine (like Google). Stuff your website with the wrong terms, and it will never be found by all those people who want to do business with a business like yours.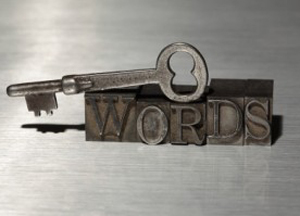 Open the phone book
Remember the phone book (that fat yellow book we used to all use before the Internet)? Well, get it out, blow off the dust, and note the terms used to describe businesses like yours. What category title is your business listed under? What are the terms advertisers use in the display ads?
While the phone book may be outdated, the terminology is still in vogue – which makes it a great place to start your keyword research.

Ask your friends
Big advertising agencies use focus groups to learn what consumers think. But you've got something even better: your friends. The next time you're grabbing a bite with a pal (not a co-worker or someone familiar with your industry), ask, "If you were searching online for a ______________, what words would you type into the search engine?"
Catching the person off-guard is good. Usually, their gut reaction is the most honest.
Use online resources
There are lots of online resources that will help you research the popularity of particular keywords, but the best sources require a fee, while some of the free sources can be a big waste of time. Two good options include:
WordTracker.com (charges a fee) – Tells you how much Internet traffic a particular keyword is likely to attract, plus the competition that's out there for the term.
SpyFu.com (free) – Tells you what keywords your competitors are using.
See what words the top dogs are using
Visit the websites for some of the leading businesses in your industry (the cream of the crop). Now, read through the pages of each site and look for a pattern of keywords. It's not hard. Read the text carefully, and you'll notice the same long-tail keywords showing up about every other paragraph (if the company is stuffing its site). Treat each page on each website differently, because they may be using different keywords for different pages.
See what your local competitors are using
Now visit the websites for your local competitors. What keywords are they using?
Location is key
If you're a service business, use the name of the city/neighborhood where you're located in your long-tail keywords ("Oakland" or "West End," for example). This is important. Most people searching for a service business online want one that's local, so they almost always type in the name of their town or neighborhood.
Adjectives are always popular
Eager to filter the results, most people searching for something online will often add a descriptive adjective to their search-engine terms. Popular options include:
"Best" – People who want to work with the best will often add this adjective to their online search phrase.
"Affordable" or "inexpensive" – Let's face it, there are lots of people who want to save money.
Slang is good
While it may seem really distasteful to use "headhunter" to refer to your recruiting firm in the text of your website, if that's a term prospective clients are using to find a business like yours, then that's a word you want to be using.
Avoid industry-speak
Using industry insider terms in your long-tail keywords is a mistake. If it's not a word that a prospective client is mostly likely to type into a search engine, you don't want to use it.
Putting it all together
Once you've used these tips to generate some keywords, sit down and see how you might be able to weave them together into four or five really strong long-tail keywords. For example:
"San Jose's best real estate agent"
"Affordable homes from San Jose's most reliable real estate agent"
"San Jose's top-selling real estate agent"
"The rental building specialist on San Jose's West Side"
Once you've got a short list of potential winners, type each into the Google search engine and analyze the results. Click on the websites listed at the top of the results, scan each for new keyword options, and continue refining your keyword list.
The more you play with the options and analyze the results, the more proficient you'll become at determining what works and what doesn't. This process takes time and testing, but the results (a top ranking on the Google search engine) can be pure gold from a marketing perspective.
To find out more about our online and print marketing tools or to help with your personal marketing strategy, visit /. Be sure to join our Facebook Community and follow us on Twitter for real estate marketing tips.