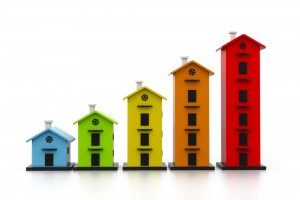 Now that the elections are over, many are wondering what real estate market predictions are for 2013.  Although the housing market forecast is brighter than it was for the start of 2012, many insiders warn that recovery will continue to be slow over the next few years.

Single-Family Vacancies
Several years ago, single-family vacancies averaged 1.5 percent, and rose to a high of 3 percent during the recent recession.  At the end of 2012, vacancy rates for single-family homes stands at 2.1 percent, which is still higher than the average of several years ago, but indicates that the housing market is recovering.  Rental vacancies reached a peak of 11 percent a few years ago, but have dropped to 8.6 percent, close to the 7-8 percent average that existed before the recession.  For 2013, real estate market predictions indicate that vacancy rates will continue to decline.
Fewer New Constructions
One reason real estate market predictions indicate that vacancy rates will continue to decline is that, although housing starts have risen over the past few months, new construction rates are still considerably below the peak of 2.1 million new starts during the housing boom in 2005.  In 2012, approximately 600,000 new homes were built, and the housing market predictions for 2013 indicate approximately 750,000 units will be constructed.  Although population growth, the desire for vacation homes and demolition of old property require new construction of between 1.4 and 1.6 million new units, the excess property built in 2005 needs to be consumed before considerably more new construction begins.
Commercial Real Estate
Real estate market predictions for commercial property indicate that investors will focus on more transparency, but that funding is available for the purchase of commercial units.  Some insiders predict that investors will focus more on low-risk, income producing office space over other types of commercial property.
After the election, real estate market predictions indicate that the housing market is seeing slow, but steady, growth, and that commercial property will more than likely focus on office space over other types of real estate investment.
To learn more about real estate marketing predictions and forecasts for 2013, visit /. Be sure to join our Facebook Community and follow us on Twitter for real estate marketing tips.