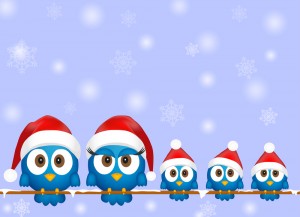 Real estate agents know that the popularity of social media has grown tremendously in recent years, which is why any holiday marketing strategy must include effective social media marketing as well. Consumers increasingly rely on social media to get information about deals, as well as to learn more about products and services.
Consider a Seasonal Brand
Developing a seasonal brand is one of the holiday marketing strategies used by many large retail chains. Add a holiday graphic to your logo, such as a holly leaf or twinkle lights to draw attention to the fact that you are announcing a holiday promotion. It will catch the attention of current and potential customers, even if the change is subtle.
12 Days of Christmas Promotion
Use the popular Christmas carol "The 12 Days of Christmas" to create a holiday marketing promotion. Choose twelve properties to decorate for the holidays and post a holiday snapshot of each on your social media sites. Ask followers on your social media sites to send photos of their holiday celebrations during those twelve days, and reward a gift to the one that gets the most "likes" or "retweets." This type of promotion could also be an effective email marketing tool for the holidays, as photos could be sent via email and posted on social media in a group or album as a way for people to view and vote on their favorites.
Throw a Social Media Holiday Party
Rather than the typical holiday party or gathering, host a Facebook or Twitter party. Invite your followers to post or tweet holiday tips and suggestions, or choose to post holiday-themed pictures simply for followers to enjoy. Work with other businesses in your area for a "Tweet the Holiday Stroll" event. In this event, followers meet at a starting location, and then enjoy a holiday stroll through a town or area, tweeting as they go. Businesses offer hot chocolate and other warm drinks for those joining the event, along with gifts or discounts to encourage people to drop by, such as coupons for discounts at local businesses, or giveaway items with your agency logo, such as tote bags or travel mugs as part of your holiday marketing strategy.
These simple holiday marketing ideas can help build your social media presence while providing information about your agency to current and potential customers. Social media can help your company effectively reach your target audience and make the most of the holiday marketing season. To find out more about our online and print tools to help start your personal marketing strategy, visit /.