As tacky as it sounds to use the word "free" in your marketing materials, research continues to show it's one of the most effective ways to grab the attention of prospective customers, reel them in and pump up sales.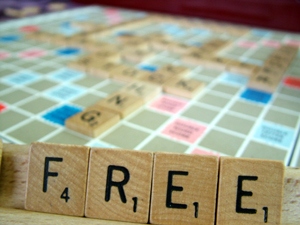 But "free" isn't the only word capable of creating that kind of marketing magic. Six other top performers are included below:
Easy
It would be rude to say most people are lazy, but, well, when it comes to responding to marketing offers, most people are pretty lazy. So describing your product, service or process as "easy" is an easy way to quickly win converts and new customers.

Win
Anyone with life experience knows nothing really valuable is totally free … except if you win it in a contest. That's what makes the word "win" so hard to resist. Putting on a contest requires some planning. And there are rules you'll need to follow to keep it all legal. But if your goal is to get widespread exposure for your business (and expand your mailing list), then start advertising the fact that you have something they can win.
Now
If left to their own devices, prospective customers will take the easy way out, which is to do nothing at all. You've got to encourage them to take action "now." Not later, when they've moved on to other pressing matters, but right now, while they're reading about your offer. The more time that passes, the less likely it is that people will follow up on your marketing offer.
Limited-time
Another great way to encourage immediate action is to make your offer time-sensitive. Even if you're willing to offer a discount all year, instead make it a limited-time offer. Consider setting the cut-off deadline about one week out: "To take advantage of this special offer, you must make an appointment with the service department before 5 p.m. Monday, February 10."
Putting a time-limit on the offer not only inspires action, it also makes the offer seem more valuable (so valuable that you have to apply limits).
Click
It's not enough to encourage prospective customers to take action now. You've also got to tell them exactly what to do. If you're sending an electronic marketing message, encourage the reader to "Click here now." If you're sending direct mail, tell the person to "call now" or "stop by the store today."
You
When writing marketing materials, many amateur marketers feel it's rude, presumptuous or unprofessional to keep referring to the reader as "you." So they use third-person references, which isn't nearly as warm and personable. Compare these two examples for yourself:
• "You and your family will love the spacious family room and big backyard."
• "The spacious family room and big backyard is perfect for large families."
There's nothing wrong with the second option, but by referring to the reader in the second-person ("you"), it's easier for the person to imagine themselves enjoying whatever it is you're selling. It's warmer … like a friend offering advice to a friend. It may seem like a subtle difference, but the impact on your marketing results can be significant.
Get started now
Start using these seven magic words in all your marketing, and it won't be long before you start to see a nice uptick in your bottom-line results.
To find out more about our online and print tools to help start your personal marketing strategy, visit /. Be sure to join our Facebook Community and follow us on Twitter for real estate marketing tips.