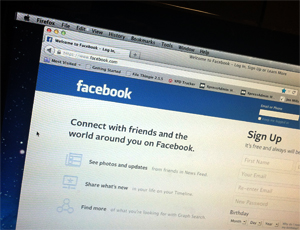 While Facebook is known for rolling out new features and functionality on almost a weekly basis, these recent additions have fans of the service posting digital high-fives.
Promotable posts
Did you know that only a small percentage of the people who "Like" your Facebook page automatically receive your posts? The truth is, each time you post something, only a random sampling of your fans receive it.
Now, the new Promote button is set to change all that … for a price.
After writing a Facebook post, you now have the option of clicking the button titled "Promote," which will distribute your post to the Newsfeeds of ALL of your Likes – plus their friends, as well. The fee: $5 to $20 or more per post.

On-page contests
Until recently, if you wanted to use Facebook to run a contest, you had to host it on a separate tab/app, which requires more time and energy than many small- and mid-sized business managers are willing to expend. Any on-page contests were strictly prohibited under Facebook's tems of service.
But now, in a twist that has marketers all abuzz, Facebook has revised its terms. Now, it's perfectly legal to ask your fans to enter your contests by simply clicking the "Like" button for the associated post, or leaving a comment, or sharing the post with their own followers.
Sales-oriented cover photos
Another thing that's banned no longer is a sales-oriented cover photo (that big image/photo that sits at the very top of your Facebook page).
Facebook's long list of rules regarding cover photos used to prohibit the use of everything from website addresses to text promoting special sales. There was even a rule that prohibited the use of arrows.
Now, however, Facebook is allowing all of those things – which throws open the doors to creativity for marketers who are desperate to make their cover photos more sales-oriented, branded and attention-grabbing.
Competitor tracking
Knowing what you're competitors are doing is key to any marketing campaign. Using the new feature "Pages to Watch," you can now automatically track the Facebook success of up to five competitors at a time.
One important note: When you sign up to track a competitor, the administrator for that Facebook page is alerted. In other words, your tracking can't be performed in secret or anonymously.
Direct replies
Many businesses worry that they'll be helpless when visitors to their Facebook page post criticism and unflattering remarks. Now Facebook has added the ability to reply directly to any comment.
Until now, your response could easily get lost in the shuffle of comments and wind up appearing well below the original comment. With this feature, it will appear directly next to the original comment – which will make it much easier to address any criticism.
Facebook may be a (mostly) free marketing medium, but to gain any real traction with it, you need to learn the ins and outs. Only the savvy succeed in the world of social marketing. So take some time to research these new features more thoroughly, then put them into action on your own Facebook page.
To find out more about our online and print tools to help start your personal marketing strategy, visit /. Be sure to join our Facebook Community and follow us on Twitter for real estate marketing tips.