Did you know that you can create a custom Facebook page designed specifically for real estate agents?  Follow these basic instructions for creating a Facebook page that will be an important real estate marketing tool for your agency.
Create a Basic Real Estate Page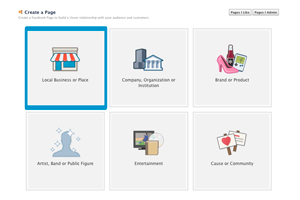 To begin using Facebook as part of your real estate marketing plan, if you already have a personal Facebook page, login to the site as you normally would.  Scroll down below the Ticker on the right side of the page.  Click on the word More which is just above the Chat window.  Highlight "Create a Page," and a new page opens. Choose "Local Business or Place" and select Real Estate with the drop down arrow at the top of the page, then enter all the other information, agree to the Terms of Service and click "Get Started." Follow the steps to upload a profile picture and then provide some basic information about your agency.  You can also include links to your other social media outlets as well.  Choose "Yes" for the last question.  You can also customize your Facebook web address to make it easier to find on the site.  This will take you to the Admin Page where you can customize your settings.  Once the page is created, you can add a custom header, also known as the Cover Photo for your regular Facebook page.  Simply click on the "Add a Cover" button and upload the graphic you want to use.

Tips for Creating Your Customized Facebook Page
When creating your real estate agency page on Facebook, there are a few tips to remember as part of your real estate marketing plan.  In the text that describes your agency, remember to include commonly used keywords so that the site is optimized for search engines.  Include wording that when the page is accessed from an iPhone, the user can call the agency directly from the iPhone through the Facebook app by pressing the "Call" button.  These tips will help make Facebook an important part of your real estate internet marketing.
Maintain your customized Facebook page as part of your real estate marketing plan using Social HQ from XpressDocs. Save time as the Social HQ dashboard allows you to access all your social media accounts from one location.  You can also manage your profiles and preferences, instantly updating all your networks at one time. The dashboard is simple to use and allows you to measure your results with easy to understand analytics. If you are a real estate agent or an agency looking for the best real estate marketing mix, contact XpressDocs to learn how Social HQ can help you increase your visibility. Be sure to join our Facebook community and follow us on Twitter for innovative marketing advice!
View the first blog, Using Facebook in Your Real Estate Plan: Part 1.